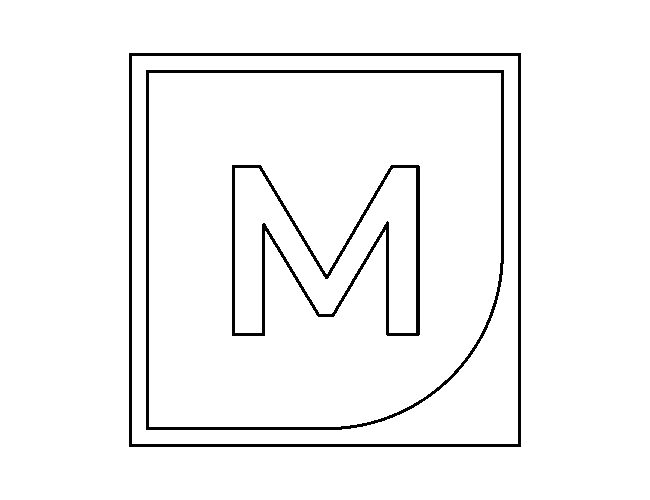 Profiles tested in the wind tunnel are stored in databases as tables of coordinates to redraw the profile with a software or a spreadsheet editor.(sample file coordinate profile)
The test results are recorded as polar operable to calculate the lift and drag according to the angle of incidence and the Reynolds number.
here you will find examples of links to data in tables that can be inserted in the profile editor mecaflux to calculate their lift and drag. So you can store your profiles and create your own database.
You create a profile in the profile editor .......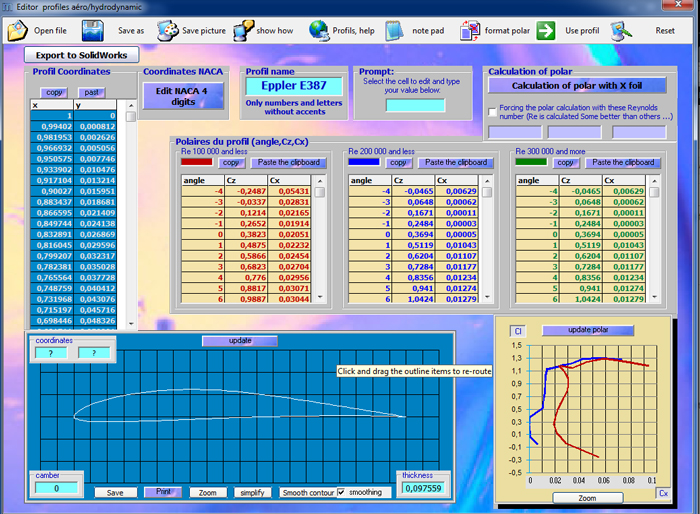 Then, you use it in the interface calculations lift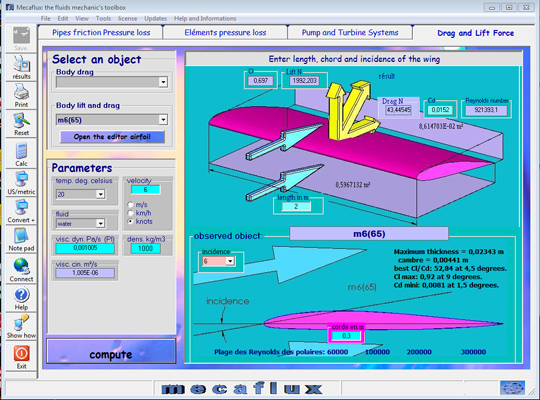 see also:
create a 3D file your wing
links to profiles:
profile editor integrated mecaflux
standard: A sample profile files is already integrated into the editor, you can choose your profile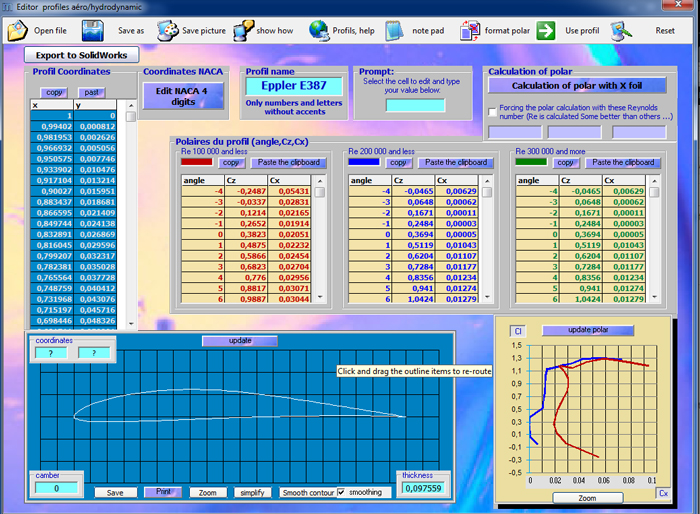 By entering coordinates tables you can create your image airfoil and save as a bitmap (. Bmp). A simple drawing editor will enable you to re size your profile to the desired scale.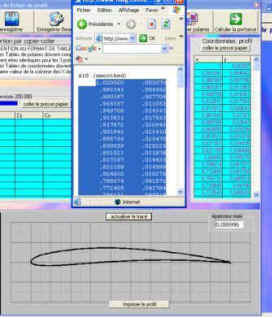 Create a profile, according to a coordinate file:
Download List profile coordinate fichier ZIP :(attention to some tables do not begin and end with 1, dans ce cas,in this case, it will be necessary to add a line beginning or end table with : 1 in x et 0 in y)
The table must contain two columns only
The first column represents the X coordinate of the point must begin with 1 and end with 1,
intermediate values ​​are compulsorily between 0 and 1.
The order of the points corresponds to the profile runs starting with the trailing edge, the upper surface back toward the leading edge, then down towards the trailing edge (starting point) through the lower surface.

Example format table data:


| | |
| --- | --- |
| 1 | 0.000017 |
| 0.987025 | 0.000057 |
| ...(x<1) | ...(y<1)... |
| ...... | ..... |
| 0.000158 | 0.001262 |
| 0 | 0 |
| 0.000035 | -0.002456 |
| ...... | ....... |
| 0.987377 | -0.001015 |
| 1 | -0.000017 |
Select your profile and open the file details
Copy the coordinate table avoiding the start of the name table. the first column of your list must start with 1 and end with 1
Paste the table of coordinates in the profile editor mecaflux clicking "paste clipboard" at the top of the coordinates table.
Click on "update the path" and your profile will appear.
Use XFOIL to calculate the polar you don 't have the values. Attention Xfoil calculate only resembling the wings profiles
Mecaflux integrates XFoil to calculate polar of the profiles that you enter in the editor
Attention Xfoil calculate only aerodynamic and hydrodynamic profiles tapered shapes,The very fine and very thick profiles profiles are not calculated with XFoil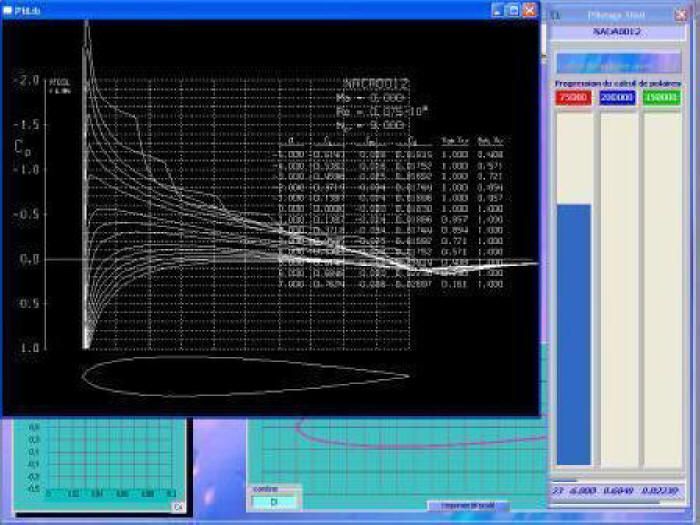 Click calculate lift and your profile will be included in the calculation interface lift portance