HYDRODYNAMIQUE TRAINEE ET RESISTANCE HYDRODYNAMIQUES
See also:
Forces in Newtons
Density in kg/m3
Surface in m²
Coefficients as Cv , Re, Fr have no units
the displacement of a vessel is the weight of water it displaces, so its volume immersed X density of water.
Aerodynamics Hydrodynamics web app: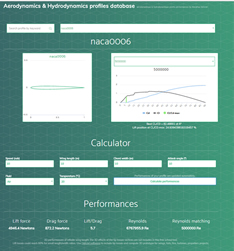 Hydrodynamics, general
When an object is immersed in a fluid stream, there is phenomena of friction and turbulence.
The study of hydrodynamic resistance (Rh) does not currently have a comprehensive theory that would apply an equation corresponding to different cases accurately. We therefore divided the phenomena within certain parameters:
The total coefficient of hydrodynamic resistance (Ch=Rh/displacement) for an object in the deep sea without surface effect is defined as:
The total coefficient of hydrodynamic resistance Ch = Rh / displacement for an object moving close to the surface is defined as:

Ch= Cw.(Fr) + Cv.(Re . K/L)
Different types of approaches used to evaluate the hydrodynamic coefficient (Ch):
Despite advances in computer modeling, testing models are still essential.The effects of friction measured experimentally basins hulls, are themselves subject to scaling problems, solved by the laws of similarities (See: Froude)
testing model Towing tank
Another technique for evaluating hydrodynamic behavior is to compare measured data from a series of standard forms and extrapolate the consequences of changing forms.
| | |
| --- | --- |
| serie Taylor | serie NPL |
| serie Nordstrom | 63 serie |
| serie SSPA | 64 |
The naval hydrodynamics studied resistance to the advancement of ships, en savoir plus sur
l'hydrodynamique navale
See also: