Inventory head loss pressure drops network, aeraulic or hydraulic
In Mecaflux Standard, the inventory of head loss, allows to see minor head loss and major head loss, as a table representing a segment of your network.
The head loss inventory is accessible from the Tools menu or a button at the bottom of the tabs major head loss and minor head loss:

"Load inventory of pressure loss".
The inventory combines the results of your calculations, and displays a row for each calculation. The inventory load losses of the section can be recorded, and used for
graphical analysis
, et la resolution de point de fonctionnement d'un ventilateur ou d'une pompe: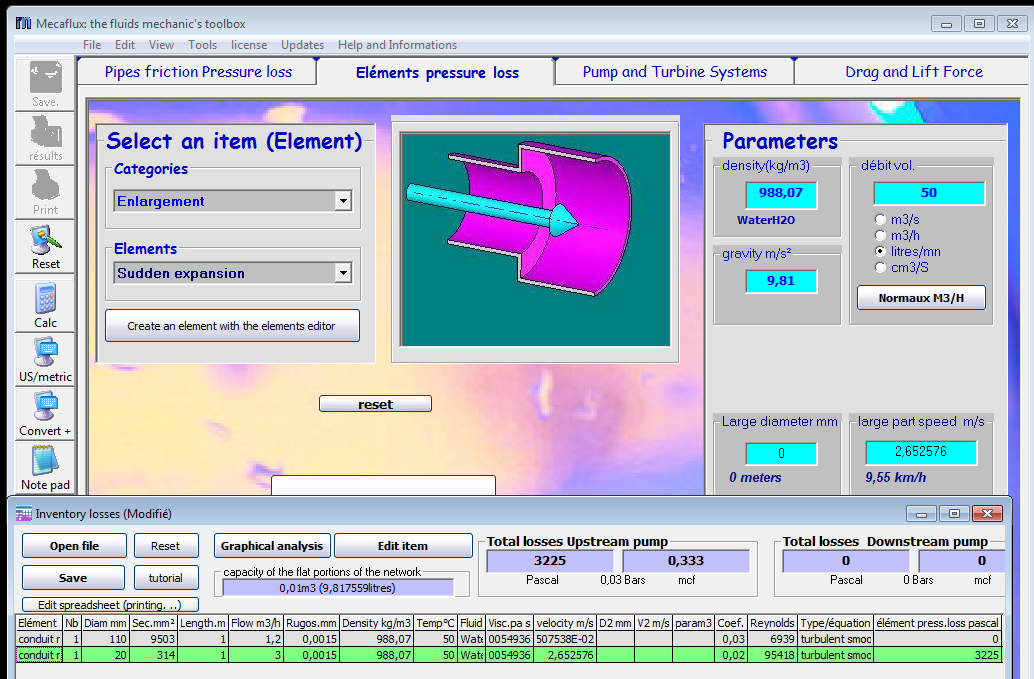 You can save the inventory of this network segment and use the graphical analysis , to test the segment at different flow rates, or find the operating point of a ventilation fan or pump if you know the curve of pressure versus flow:
See graphical analysis of aeraulic or hydraulic fluids network

The "edit item" button allows to acces to functions of table changes:
It is possible to disable some calculations, if you do not want, take it into account in the cumulation

Increase the number of element

modifier l'ordre des éléments

Manually insert a line corresponding to a load device, as you know its loss, or vertical drop you want it to appear in the table.

The different sections of the network can thus be positioned at the inlet or outlet of the pump, to test the cavitation in pump tab.

The accumulated losses of loads can be found in the tab "pump and turbine", either the suction or the discharge of fan or pump turbine

The inventory load losses can be edited in a spreadsheet , To process the data (graphics, sorting or printing)
The inventory of losses, appears at the bottom of screen,
Here the user will perform a
graphical analysis
of its network by testing the flow from 47 to 150 liters / minute.
To visualize the evolution of pressure drops according to the flow, and to find the operating points for a pump with the pump editor