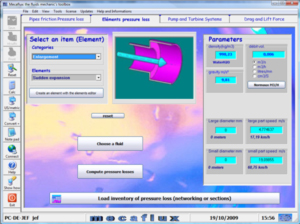 New : Editor pump and Search operating points

: The

graphical analysis

has been increased by an editor pumps that can test the network in comparison with the curves of pumps that you entered in the editor pump. The pumps are created through 6 points from curves of height versus flow, a photo and information features, price, supplier ... can be entered by copy pasted from a site builder and stored in a database data available for research operating points. The coupling in series and in parallel can be tested at the same time.
New Graphical analysis of networks in a range of speeds : The graphs show the proportion of losses by network elements, energy consumption and cost

of losses

in $. If an item is wrong

sized

, this appear clearly on operating costs or loss of pressure. This allows to visualize the consequences of the choice of material in terms of operating costs and create simulations of different networks to find the best compromise. .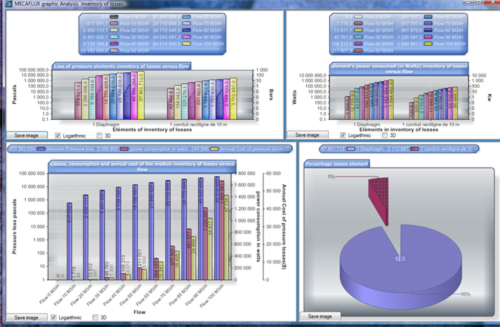 Sizing pipes by the flow imposed This interface allows to choose a list of conduits to trade stocks, or from a series of DN and automatically search for the best led by the criteria of loss of linear loads, cost of installation, sedimentation (sedimentation if the alert is activated) usually applied in the trades or hydraulic ventilation. A compromise was proposed about 15 mm / m pressure drop coefficient, but the interesting data is the demonstration of the evolution of the losses according to the diameters. The choice of the user may then be following the strategy of depreciation and operating as expected. duct sizing
About 120 fluids are already set in density, viscosity, temperature.

you can create, save, edit new fluid according to your own settings.
Calculation Head losses (43 accidents accessories and set your foundation for studying just the head losses through a network of barriers, valves, elbows, cones, exits tank, fittings ... More
fonctions External flows, Aérodynamics, Hydrodynamics
New: A function to export your profile 3D to SolidWorks
You can set a NACA 4 digits and automatically generate its coordinates, or

you use the links to downloads of polar coordinates of profiles available for download, or you use your own measurements.

You insert the data tables in the editor and your profile is emerging.

You can print your profile

You can save as bmp profile to edit in a paint program and resize it to scale

you can insert the profile interface for calculating lift. More
Integrated TOOLS of software MECAFLUX
Forces and Moments. (enter your lever, application angle ....)

Powers and couples (conversion units, equation work / time / power, torque / rotational speed)

Pressure / force / area (equation configurable with integrated conversion unit)

Viscosity (parameterized equation, conversions, examples)

Angles (conversion angles, angular velocity, trigonometry)

Temperature (conversion and calculation examples + expansion coefficients of expansion)

Lengths and surface (length + conversion calculations Sphere)

Volumes and flow rates (conversion rates of mass / volume + sample density

Speed and time (conversion time and speed)

Mass and weight (related to the acceleration or deceleration shocks examples accidents)

Work / Energy (conversion and evaluation of a work by force angle length

Kinetic energy Force (conversion and evaluation of the kinetic energy, speed initial / final ...) More
You want to manufacture a venturi to measure flow, or creating a vacuum system .... More
Calculating Viscosity:( "tools")

Want to know the viscosity of a liquid interface "viscometer house" shows you the recipe for making your viscometer with average margins and the dynamic viscosity calculation based on your measurements. (To convert kinematic viscosity you can use the converter) More
Calculation of container discharge / ejection velocity:( "tools")

The classic question of emptying rate of a reservoir, with the exit velocity of the fluid flow and emptying time taking into account that the pressure of the water column decreases with time ...

The calculation of the ejection velocity of a fluid out of a pressure tank is available by entering the pressure in the tank drain tank

normal conversion rate (Nm3 / h)

The converter allows you to quickly calculate the correlation between a normal flow in m3 / h and the actual flow of compressed gas circulating in the ducts More